Boardwalk Joe's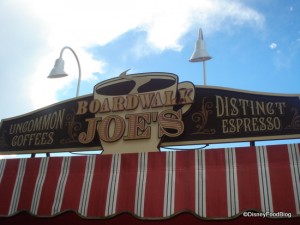 Boardwalk Joe's is a stand on Disney's Boardwalk that offers coffee, snacks, and more. We really enjoy the seasonal margaritas!
Service: Coffee/Snack Stand
Type of Food: American
Location: Boardwalk Resort
Disney Dining Plan: Yes
Tables in Wonderland: No
Menu:
The menu consists of pastries, fruit and coffee in the morning, plus cocktails and coffee in the afternoon and evening.
Reviews:
Dining "To Go" at Disney's Boardwalk
Happy Hour: Caramel Apple Margarita
Review: Frozen Grapefruit Margarita Disney's Boardwalk Resort
Important Info:
Dining plan credits accepted for breakfast — includes a pastry, a fruit and two beverages.
Open 7 a.m.-10 p.m.
Disney Food Blog Posts Mentioning Boardwalk Joe's
You Might also Like: La Cava del Tequila at Epcot, Tambu Lounge at Polynesian, Tune-in Lounge at Hollywood Studios