Scat Cats Club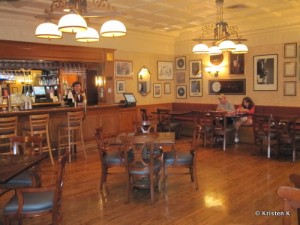 Scat Cats Club at Port Orleans French Quarter is a great place to sit back, enjoy an authentic New Orleans-style Hurricane and listen to jazzy live music from entertainer Elliott Dyson, who can rock the microphone, the guitar, the saxophone and even some steel drums equally well. So pull up a chair and take a listen, or just enjoy the game on the TV.
Service: Lounge
Type of Food: Just drinks!
Location: Port Orleans French Quarter, Walt Disney World
Disney Dining Plan: No
Tables in Wonderland: Yes
Menu: Standard Disney cocktail menu and full bar, plus some signature New Orleans-style cocktails.
Famous Drinks: Southern Hurricane and Sassagoula Swamp Water
Important Info:
Disney Food Blog Posts Mentioning Scat Cats Clubnothing found.
You Might also Like: Tambu Lounge at Polynesian, Mardi Grogs Pool Bar at Port Orleans, River Roost Lounge at Port Orleans Riverside