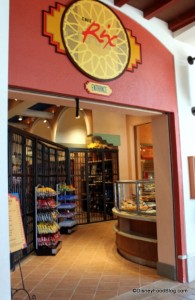 Cafe Rix is a great option for grabbing a quick snack or lunch before you head out to the parks or the pool. The gelato station and above-par bakery case are the cafe's best features, and it is one of the few resort Grab-and-Gos that offer specialty coffee beverages.
Service: Grab-and-Go
Type of Food: American
Location: Coronado Springs Resort, Walt Disney World
Disney Dining Plan: Yes
Tables in Wonderland: No
Menu:
Official Disney Breakfast Menu
Official Disney Lunch/Dinner Menu
Cold sandwiches, salads, wraps, bottled beverages, desserts, and gelato.
Reviews:
Photo Tour: Cafe Rix at Coronado Springs Resort in Walt Disney World
Important Info:
Open from 6:30a.m. – 11 p.m.
Disney Food Blog Posts Mentioning Cafe Rix
You Might also Like: Siestas Pool Bar at Coronado Springs, The Mara at Animal Kingdom Lodge, Pepper Market at Coronado Springs