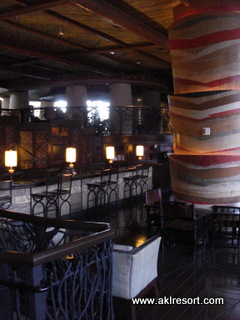 Victoria Falls is a relaxing oasis perched above Animal Kingdom Lodge's Boma restaurant. Enjoy a glass of South African wine, or indulge in your favorite martini, beer or mixed drink. It's a great place to hang while waiting for a table at Boma or Jiko. Or just stop in on your way out to the parks to grab a quick bite of crisp breads and African dips.
Service: Lounge
Type of Food: African
Location: Animal Kingdom Lodge Jambo House; Walt Disney World
Disney Dining Plan: No
Tables in Wonderland: Yes
Menu:
Official Disney Menu
Disney's standard bar menu plus South African wines and an appetizer menu of breads and dips.
Reviews:
Five New Disney World Drinks You've Gotta Try
Top 10 Disney World Bars and Lounges
Disney Food Blog Review: Victoria Falls Lounge at Disney's Animal Kingdom Lodge
Important Info:
Typically open in the early afternoon-10:30 p.m.
A great place to people-watch, with views of Boma and the Animal Kingdom Lodge lobby.
Famous Drinks/Dishes: South African wines.
Disney Food Blog Posts Mentioning Victoria Falls
You Might also Like: Dawa Bar at Animal Kingdom, Tambu Lounge at the Polynesian, Bongos Cuban Cafe at Downtown Disney