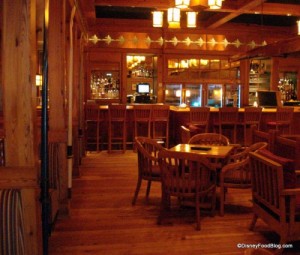 Located directly next to the Yachtsman Steakhouse at the Yacht Club Resort, The Crew's Cup is a great place to get a bite and a drink in a relaxing, comfortable atmosphere — and it's one of my personal favorites! During dinner hours at the Yachtsman, you'll have a direct view through a glass window of steak being butchered for the steakhouse – so cool!
Service: Lounge
Type of Food: American

Location: Yacht Club Resort; Walt Disney World
Disney Dining Plan: No
Tables in Wonderland: Yes
Menu:
Official Disney Menu
Disney's standard bar menu plus a few special drinks, as well as a food menu that includes several full meals as well as some fun appetizers like crab cakes, pan-seared chicken breast, cheeseburgers, salads, steak, and more.
Reviews:
Review: Crew's Cup Lounge in Disney's Yacht Club Resort
Disney Food Blog Review: The Crew's Cup Lounge at Disney's Yacht Club Resort
Top 10 Disney World Bars and Lounges
Important Info:
Typically open noon-midnight.
Comfortable seating and a quiet atmosphere.
Famous Drinks/Dishes: Boneless buffalo chicken
Disney Food Blog Posts Mentioning Crew's Cup
You Might also Like: Martha's Vineyard at the Beach Club, Belle Vue Lounge at the Boardwalk, Territory Lounge at Wilderness Lodge