Storybook Treats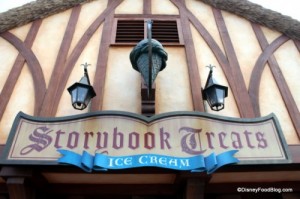 If you're looking for a unique sundae option, Storybook Treats is the place to go in the Magic Kingdom. Known best for the strawberry shortcake, hot fudge cookie, and fudge brownie sundaes, there's a pick for every kind of sweet tooth! And if you're looking for Mrs. Potts' Cupboard, come no further — it's simply been renamed to Storybook Treats.
Service: Counter Service
Type of Food: Snacks and drinks
Location: Magic Kingdom, Fantasyland
Disney Dining Plan: Yes, Snack Items
Tables in Wonderland: No
Menu:
Storybook Treats menu
Fudge brownie sundae, hot fudge cookie sundae, strawberry shortcake sundae, soft serve ice cream, milkshakes, floats, beverages, and more.
Important Info:
Located between The Many Adventures of Winnie the Pooh and Friar's Nook.
Disney Food Blog Posts Mentioning Storybook Treats
You Might also Like: Aloha Isle, Auntie Gravity's, Main Street Ice Cream Parlor