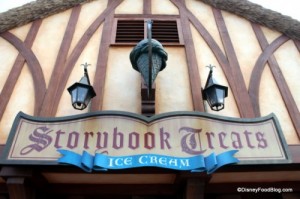 If you're looking for a unique sundae option, Storybook Treats is the place to go in the Magic Kingdom. Known best for the strawberry shortcake, hot fudge cookie, and fudge brownie sundaes, there's a pick for every kind of sweet tooth! And if you're looking for Mrs. Potts' Cupboard, come no further — it's simply been renamed to Storybook Treats.
Service: Counter Service
Type of Food: Snacks and drinks
Location: Magic Kingdom, Fantasyland
Disney Dining Plan: Yes, Snack Items
Tables in Wonderland: No
Menu:
Official Disney Menu
AllEars.net:
Storybook Treats menu
Fudge brownie sundae, hot fudge cookie sundae, strawberry shortcake sundae, soft serve ice cream, milkshakes, floats, beverages, and more.
Reviews:
Snack Series: Holiday Swirl Ice Cream at Storybook Treats
Snack Series: Fudge Brownie and Strawberry Shortcake Sundaes at Storybook Treats
Disney Food Blog Review: 4th of July "Limited Time Magic" Treats in Walt Disney World
Disney Food Blog Review: Mickey's Not-So-Scary Halloween Party Treats
News & Review: Twinkie Sundae and Peter Pan Float at Storybook Treats!
Disney Food Blog Review! NEW Rapunzel-Inspired Lost Princess Cone at Storybook Treats in Magic Kingdom!
Disney Food Blog Review! This NEW Ursula Dessert (With TENTACLES) Has Us Under Its Spell in Magic Kingdom!
Disney Food Blog Review and Pics! NEW Voodoo Magic Drink in Disney World!
Important Info:
Located between The Many Adventures of Winnie the Pooh and Friar's Nook.
Disney Food Blog Posts Mentioning Storybook Treats
You Might also Like: Aloha Isle, Auntie Gravity's, Main Street Ice Cream Parlor