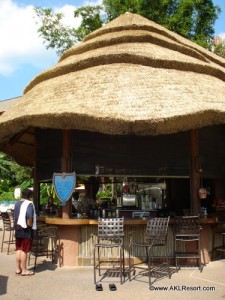 The Uzima Springs Pool Bar is a relaxing oasis, themed to an African tee, complete with thatched roof and foliage. Pull up a bar stool and enjoy an African beer, South African wine, or a specialty cocktail.
Service: Pool Bar
Type of Food: Just drinks!
Location: Animal Kingdom Lodge, Uzima Springs pool area
Disney Dining Plan: No
Tables in Wonderland: No
Menu:
Official Disney Menu
Disney's standard cocktail menu; bottled and draft beer, including African imports; wine; and several specialty cocktails.
Reviews:
Pool Bar Series: Uzima Springs Pool Bar
Disney Food Blog Review: Will the Berry Merry Margarita in Disney World Make Our Nice List?
Disney Food Blog Review: We're Sipping the NEW Safari Mudslide at Disney's Animal Kingdom Lodge
Important Info:
Open from 10 a.m.-9 p.m.
Non-AKL guests are welcome to visit the bar, but please keep the pool itself to guests of the resort.
Disney Food Blog Posts Mentioning Uzima Springsnothing found.
You Might also Like: Dawa Bar at Animal Kingdom, Maji Pool Bar at Kidani Village, Tambu Lounge at the Polynesian