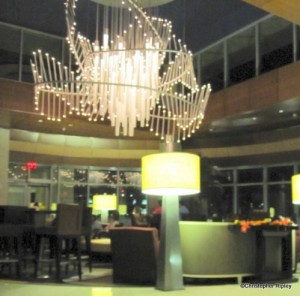 The Top of the World Lounge, exclusive to Disney Vacation Club members staying at Bay Lake Tower, is a great Vegas-style lounge perched on the top floor of the resort. Look for some wonderful tributes to the Monorail and retro images of Tomorrowland. Grab a drink, an app and the best view of the Wishes fireworks here!
Service: Lounge
Type of Food: Californian
Location: Contemporary Resort Bay Lake Tower; Walt Disney World
Disney Dining Plan: No
Tables in Wonderland: No
Menu:
Disney's standard bar menu, along with a menu of flatbreads, appetizer and desserts.
Reviews:
Guest Review: Disney World's Top of the World Lounge
Disney Food Blog Review: Top of the World Lounge at Disney World's Bay Lake Tower
Important Info:
Typically open from 5 p.m.-11 p.m.
Trivia: It's named after the old Top of the World Restaurant at the Contemporary as a nice nod to the resort's past.
Apart from members staying in the grand villas on the 16th floor, all other members must access the lounge via the lifts on the ground floor.
Famous Drinks: Power-berry Mojito, Blue Glowtini
Disney Food Blog Posts Mentioning Top of the World Lounge
Disney Recipe (and Happy Hour!): Monorail Drinks from Top of the World Restaurant at Disney's Contemporary Resort
You Might also Like: Outer Rim at the Contemporary Resort, Belle Vue Lounge at the Boardwalk, Tambu Lounge at the Polynesian